The eye-catching beauty of the Cascadia railing system is the first impression you will get when admiring your new stair railing install. The distinctive infill fittings create a uniquely modern look that differentiates Cascadia from other stair railing systems.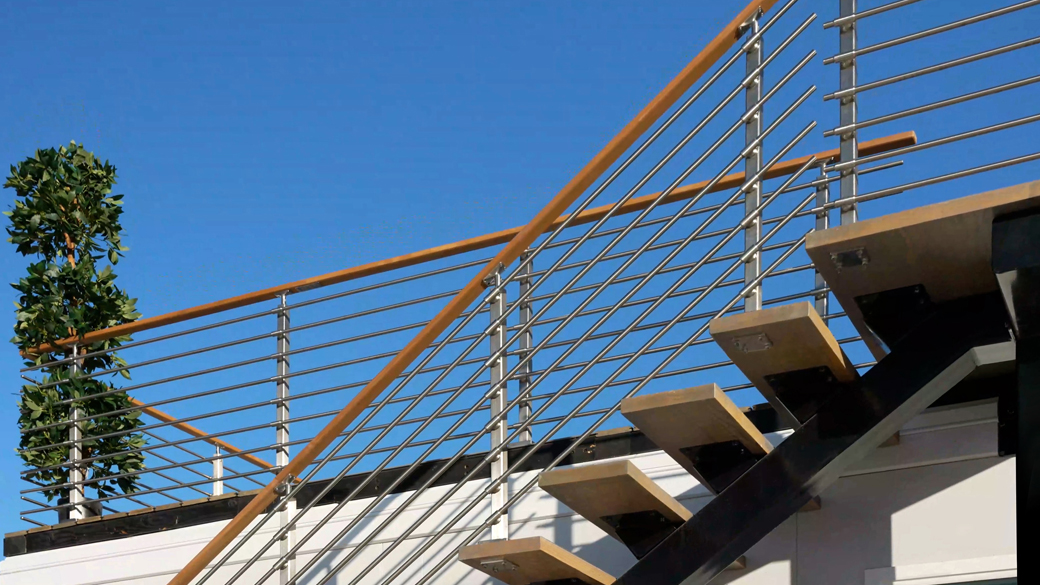 Ready for Your One-Minute
Railing Cost Estimate?
Whether you want to source an estimate for deck railing cost or learn about the cost to replace stair railing, the Cascadia app will give you an immediate answer by calculating a detailed parts breakdown.
Key in your measurements
Get an inventory of the parts you need and the railing cost
No need to input your contact details unless you place an order
The modern stair rail, developed by AGS Stainless, was designed for you! — A discerning homeowner who expects impeccable style and safety in one great product. Cascadia is a top-notch railing system that will exceed your expectations in every way possible, including price point, looks, design, and ease of installation. Read on to discover the top five reasons why homeowners and contractors LOVE Cascadia railing kits for stairs, decks, and every other application.
Beauty & Style | Cascadia Staircase Railing Is Simply Stunning

Stainless is ideal if you're looking for modern railing ideas that make a statement, like a contemporary open staircase design. The sophisticated floating steps pair beautifully with the indoor stair railing kit.

What makes a home feel unique? A welcoming fireplace, elegant windows, or a gorgeous staircase will give a building a distinctive character. Remodeling your staircase railing will significantly affect how YOU feel and relate to the property. Cascadia stair railing kits easily transition between stepped and straight railing sections. The stainless rod railing is ideal for all stair layouts, including switchback stairs with a landing.

Home is where the heart is; Taking pride in your property and creating a beautiful living environment is hugely satisfying. Upgrades such as a modern rod railing system will impress your guests and elevate your home's style.

Cascadia indoor stair railing kits are ideal for homeowners who want to modernize their property with a gorgeous new ornamental railing.

Interior designers often select modern metal stair railing because they're looking for that unmistakable luxurious vibe that only stainless stair railing delivers. Many indoor stair railing ideas exist, but nothing compares to Cascadia stair railing kits for achieving a custom-designed high-end look at a very reasonable price point.

Discover more by browsing photos of stair railing kit installations. Cascadia is a versatile railing system. Many homeowners love it so much that they install the product throughout their properties, not just on stairs but also on balconies, decks, patios, and porches.

Quality | A Modern Railing Kit Designed and Manufactured to an Exceptional Standard

You only need to modify the infill rods, which you will cut to the correct length. The infill fittings and handrail support bracket rotate to accommodate the angle of the rod infill and top wood rail.

Cascadia's clever design means that all the railing posts and fittings are the same — there's no modification required for corners or end posts. Regardless of the application, the railing components are identical whether installed as an outdoor step railing or for a straight section in your home. Watch this video to learn how easy it is to install the railing kit.

A Stair Railing Kit Built From the Finest Materials

AGS manufactures every component of the Cascadia railing kit using only marine-grade 316 — high-quality stainless steel. The durable and rust-resistant material provides superior corrosion resistance, particularly when compared to a lower-grade stainless or aluminum railing.

The Cascadia DIY stair handrail is a high-quality outdoor railing kit perfect for any application, including decks, stairs, balconies, and porches.

A DIY Stair Railing With an Outstanding Design

Cascadia is a new rod railing system that breaks the mold and sets a new standard for stair railing kits. Professional contractors are always impressed by the ease of installation, product quality, and completed look.

Cascadia rod railing kits feature infill fittings that rotate. The rod railing attaches to the outside of the post, making it easy to install at an angle.

Cascadia's one-piece posts and adjustable post tops make the interior and exterior stair railing kit easy to install on steps, ramps, and straight sections. Whether you need a short run for your porch step railing or a do-it-yourself staircase rail for several flights, Cascadia's brilliant, innovative design naturally adapts to any given scenario.

Cascadia stair railing kits are easy to build and perfect for homeowners who want to install a modern wood banister railing.

For a standard-sized 12′ × 12′ deck, most people report successfully installing their entire deck handrail and deck stair railing kits in about a weekend. If you're curious, watch this video demonstrating how to install the do-it-yourself staircase railing.

An Indoor AND Outdoor Stair Railing Kit | Perfect for All of Your Home Railing Needs

If you're exploring outdoor and indoor stair railing ideas, look no further! With AGS Stainless, there is no distinction between outdoor railings and interior stair railing kits because we ONLY use the best quality materials to manufacture all our custom and kit railing systems.

The key to building a cohesive home design is selecting a few materials and using repetition to create harmony between your design elements. Installing Cascadia on your deck and interior stair railing will develop flow and give your home that sought-after feeling of continuity.

Indoor Stair Railing Kits

One of the many benefits of a metal stair railing is that it will gleam even under poor lighting conditions. Cascadia stair railing kits catch and reflect the light brightening the look of your home. The attractive staircase railing helps minimize winter gloom, especially in dark areas lacking natural light, such as basements or enclosed staircases.

The stair handrail is easily attached to the railing because the post top rotates.

— No need to work to your contractor's schedule – or lack of one.Cascadia's clever, easy-to-install design means many homeowners install Cascadia stair railing kits themselves.

Outdoor Stair Railing Kits

The outdoor metal stair railing looks stunning on concrete. Architects often pair concrete and steel because they complement each other; both materials deliver a modern look and blend well.

In most instances, homeowners usually want to install outdoor stair railings on concrete or wood surfaces. Depending on your flooring surface, you may need either lag screws or concrete expansion anchors to complete the job.

We recommend purchasing the hardware for your stair railing kit via the Cascadia app. That way, you can be assured every component of your outdoor stair railing is high-quality marine-grade 316.

To learn more, you can download the installation instructions or call us. We're here to help (888) 592-4371

Cascadia's outdoor stair handrail is usually wood, but some customers request a custom-built stainless top rail. Whatever outdoor stair railing ideas you decide on, your outdoor stair handrail should be corrosion and rot-resistant.

A Versatile Design | Cascadia Is Perfect for ALL Your Stair Railing Ideas

Cascadia is a one-size-fits-all solution for numerous railing applications, from outdoor porch railings to indoor stair railings. The adaptable do-it-yourself staircase railing is an excellent product for all your home's railing projects.
Rod Railing for Any Stair Layout or Application

Undertaking a new home improvement project is tremendously exciting, but you must consider a few factors first. When you decide to install a new deck, stair, or porch railing, finding products that suit your budget and time frame is fundamental to your success.

Equally important, you will need a stair, deck, or porch railing kit that works for your stair layout — without requiring expensive modification or specialized tools.

Ultimately, a staircase railing with a universal design saves time and money on the job site because it's simple to build. Unlike other metal stair railings that require assembly, the Cascadia one-piece posts come ready to install.

Stair Handrails Your Way

The homeowner or contractor typically sources Cascadia's stair handrail. Most people LOVE the high-end custom-designed look they achieve by matching their stair handrail to their floorboards or deck.

A Stair Railing Kit With Optional Baseplate Covers

Elegant baseplate covers give this modern floating stairs design a super luxury look.— It's Pawsome!

Many people love the look of exposed baseplates and consider them a distinctive design feature, but others add baseplate covers to their stair railing order. You can use the Cascadia app to customize your railing kit or talk to one of our custom railing experts about your project.
Code Compliant | Railing Height and Spacing? — We Got You Covered!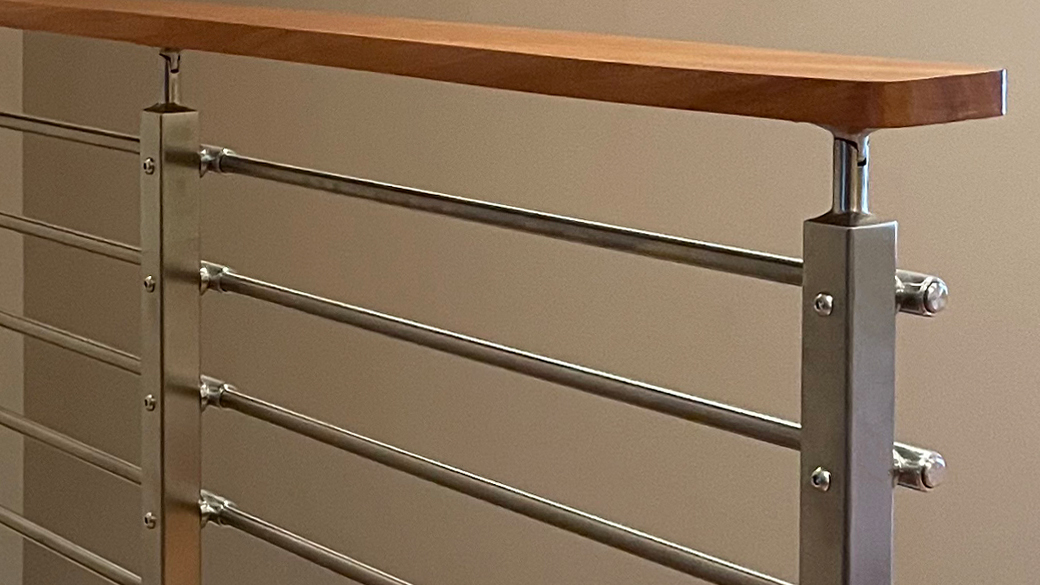 Adjustable post tops make the stair railing kit easy to install. The infill fittings are attached to the railing posts using an Allen key.
Cascadia Metal Stair Railing Kits Are ICC-ES Approved!
What does this mean for you? Cascadia does not require modification and is code compliant when installed per specification. Read the report, watch the video, and download the instructions to learn more.
Are All Stair Railing Systems ICC-ES Approved? No, Cascadia is currently the ONLY stainless steel rod railing system with horizontal infill (ESR-4148) that's available in either 36″ or 42″ height configurations with the approval. — It's a BIG DEAL!
Why Select the Cascadia Stair Railing Kit?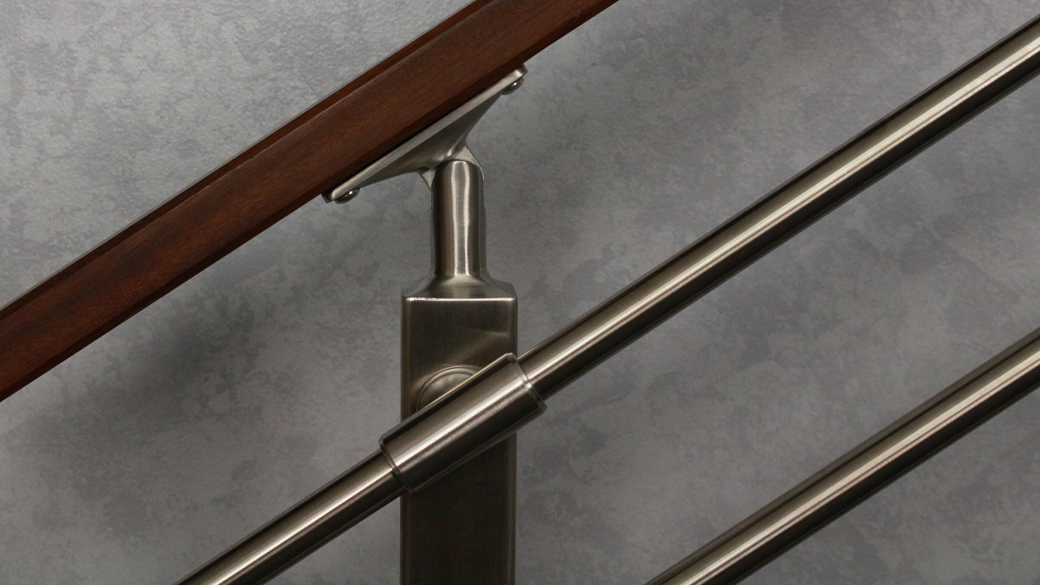 It's plain and simple; Cascadia is a beautiful stair railing system manufactured with high-quality materials. The ingenious design, paired with the ICC-ES approval, makes the railing kit easy to install. The Cascadia app gives you up front pricing, and the system delivers within days. The cost of the railing system is competitive yet provides a high-end custom look. What's not to love?
Cascadia ticks ALL the boxes — Get Started!