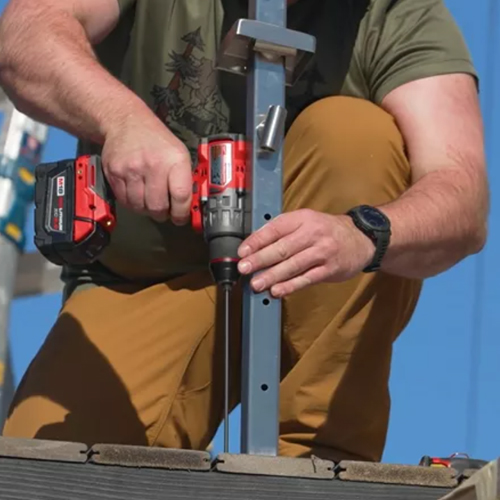 Deck and Stair Remodeling Ideas for Your Home
For a homeowner, remodeling railing is often a one-time event and an on-the-job learning experience. At first, planning a railing replacement for your home might seem a little daunting, but it needn't be. Keep reading to learn more.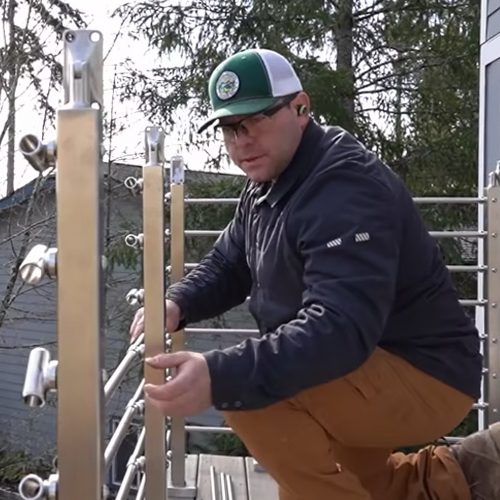 Railing Install Video
Could This Be the World's Easiest Railing Install? Watch the video to learn how to install a rod railing system in your home. From ordering to installation, Cascadia is designed to make your next railing project as easy as possible.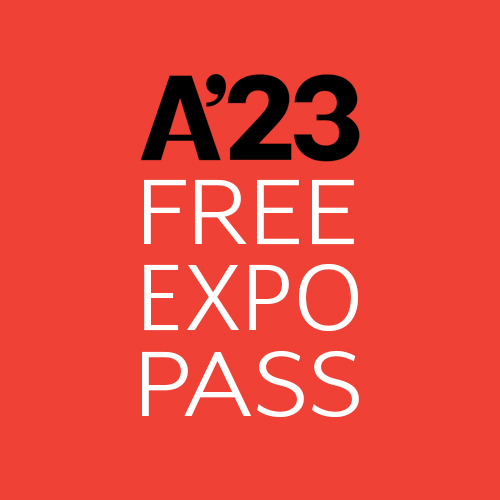 FREE EXPO PASS PROMO CODE!
Be our guest at the AIA Conference on Architecture in San Francisco! Use Promo Code AIAEX421 to register for your FREE EXPO PASS. Visit AGS at booth #5371; We would love to see how we could help with your next railing project! A'23 is jam-packed with exciting events. You can learn from keynote speakers, attend courses, and network with industry professionals.— See you there!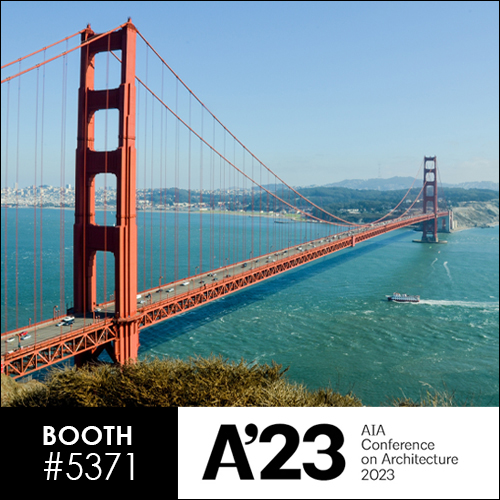 AGS Stainless at A'23
A'23 is your chance to network with the industry's most influential professionals. Discover the latest cutting-edge building materials and learn from experts about new products and design practices shaping the future. At the event, you can visit AGS at booth #5371 or earn educational credits by attending course EX402. Learn more.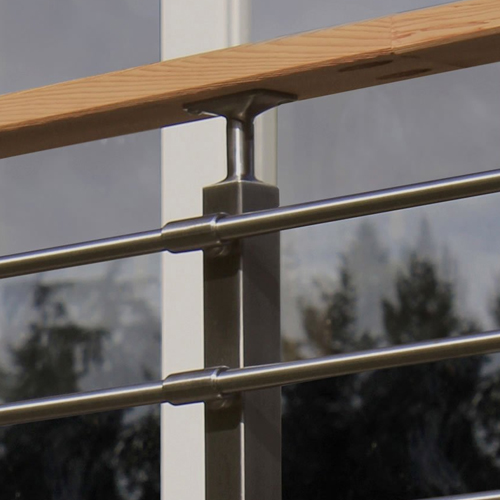 Code Compliant
When installed per specification, the Cascadia railing system is fully code compliant. Homeowners who select the Cascadia railing kit don't need to determine the railing height or the infill spacing because Cascadia is ICC-ES approved, and the code-compliant rod railing arrives ready to install, requiring minimal customization.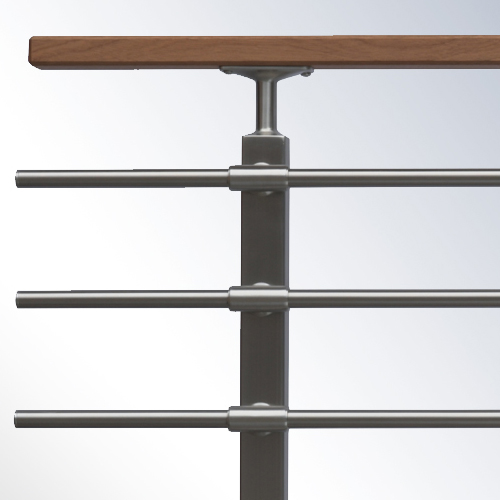 Step up Your Style
Get the look you love with a stainless steel Cascadia railing system. Whether you are designing a sleek stair handrail or a stylish modern deck rail, Cascadia provides a clean upscale look. Check out our gallery of rod railing photos to get inspired for your next home improvement project!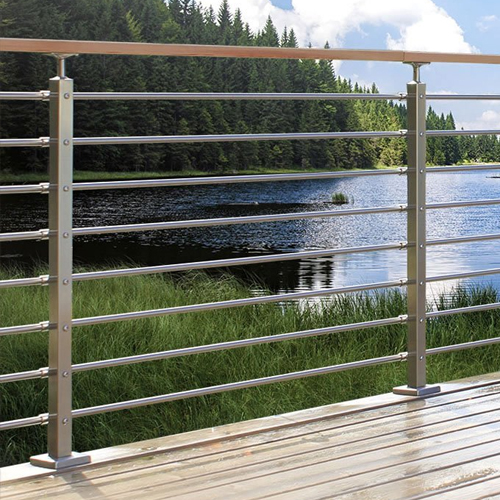 ICC-ES Approved
The ICC-ES Report verifies that the Cascadia railing system has been evaluated by the International Code Council and complies with the standards referenced in all applicable codes. ICC-ES certification guarantees that the Cascadia railing system and the manufacturing process have been rigorously tested, evaluated, and audited to confirm code compliance.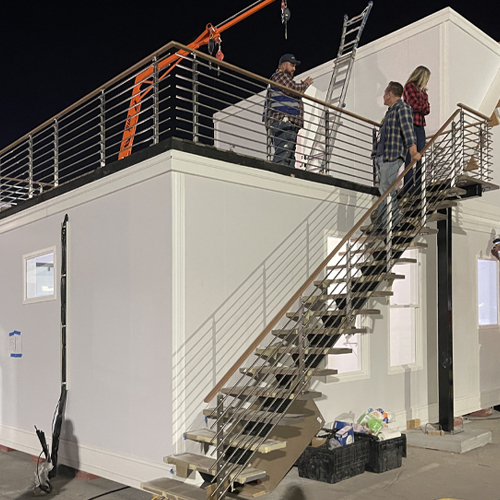 Shows and Events
Learn more about the Cascadia stainless steel kit railing by visiting one of the many events AGS Stainless attends. Visit our booth to see the railing system and talk to the Cascadia team to discover how we can help you with your next railing project.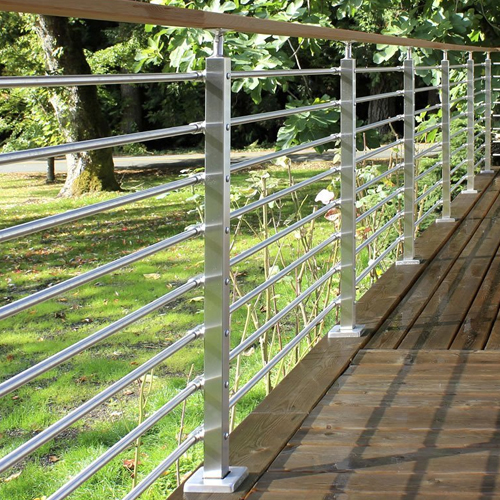 Deck Railing!
When selecting an outdoor railing for a deck or patio, it's essential to consider how the product might weather. If you're considering a modern metal railing for outdoor use, Cascadia is an excellent choice because it is made from marine grade 316.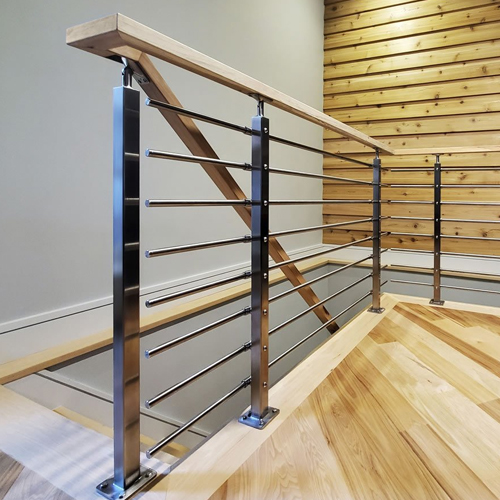 Stainless Stair Railing!
How do you install a handrail on stairs? With some railing systems attaching the top rail is a painstaking task. Not with Cascadia, the adjustable post top tilts to the desired angle, making it easy to attach the wood top rail. Yes, it's that simple.